MACHINE RETROFIT
What is machine retrofit?
Oval Grinding Machine Retrofit


메모
This is the oval grinding machine. This machine made frequent troubles over long-period operation time and had problems of spare parts supply. We retrofitted electrical system from PC-based NC controller to Siemens Sinumerik 840D CNC system. We also retrofitted mechanical parts from ball screw slide system with too much backlash to new designed linear motor adopted slide system - zero backlash and high dynamic response. It made possible to grind oval shape difference over 2mm.
Our customer saved the maintenance cost and time as long waiting time until the arrival of expert from abroad and expensive spare parts cost and after service fee. Additionally, we exchange old hydraulic and pneumatic hose and elements and new painting. The productivity of retrofitted machine is better than the new machine with the aid of new CNC function and linear motor system.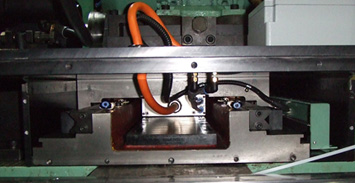 New designed slide unit driven by linear motor